Mission Training is Kent's leading fire training academy, providing modern and dynamic frameworks of learning for those wishing to become a professional in their chosen industry.
About this course
Mission Training offers the Laser-Driven Extinguisher Training which is the latest advancement in fire training technology and is eco-friendly. Using the laser-training extinguisher to provide a dynamic and realistic simulation for trainees while eliminating the hazards associated with conventional fire extinguisher training. This effective training simulates class A, B and C fires at four difficulty levels and has the capability of grading trainees on their performance and is carried out in the classroom.
Because the system is unique in the fire extinguisher training industry the learners can have as many attempts as required to extinguish the fire so that they leave with the correct operation and action of a Fire Extinguisher.
The Laser Driven Training System senses where the user aims and sweeps a laser training extinguisher and automatically varies the LED driven digital flames in response. The electronic control system responds to the trainees' actions, putting the fire out only when the extinguisher is used correctly. It uses a conical laser to replicate extinguisher discharge rather than depending on a dry-chemical or CO2 extinguisher.
Because only laser light is emitted from the training extinguisher, extinguisher training can now be conducted virtually anywhere. Digital flames also respond to Smart Extinguishers™ for additional training variations which means that the practical session can be carried out externally with the use of water based extinguishers which are eco-friendly using water and compressed air.
Fire Extinguisher Training is carried out in a safe environment and learners are not exposed to any hazards relating to heat or smoke.
---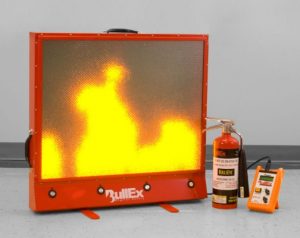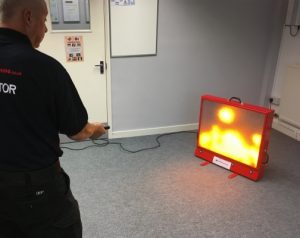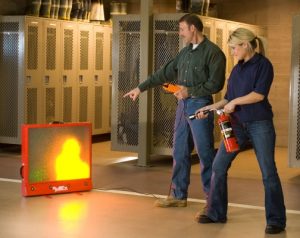 ---
---
Course Info
Understanding Fire Risk and Fire Risk Controls
Candidates will develop knowledge and understanding of fire risk and control and be able to:
Explain how fires are caused in the workplace and provide examples of components of the fire triangle that may be found in the workplace.
Identify the hazards during or after a fire, including the products of combustion.
Describe the characteristics of fire and smoke spread.
State the different methods used to identify and control fire hazards and identify relevant limiting factors associated with these.
Define the term 'means of escape' and identify typical components, including the principle of compartmentation and protected routes.
Describe methods of fire detection and raising the alarm.
Describe how fires are extinguished and state the safe operating parameters for the use of portable fire-fighting equipment.
Principles and Practice of Fire Safety
Candidates will develop knowledge and understanding of the principles and practice of fire safety and be able to:
Outline the main legislation in the UK for the management of fire safety in the workplace and define the key terminology used.
Outline the legal duties of an employer and an employee with respect to fire safety in the workplace. Describe the stages involved in a fire risk assessment.
Understand how to undertake a simple fire safety inspection of their workplace to ensure that fire risk remains at an acceptable level.
The Role of the Fire Marshal
Candidates will develop knowledge and understanding of the role of the nominated fire warden and be able to:
State the role and function of fire wardens in their workplace:
On a day-to-day basis – to include checking fire risk controls remain effective
During an emergency – to include how to raise the alarm and contact the emergency services and what they should do in order to protect themselves and those people in the area for which they have designated responsibility
If they are not in their designated areas of responsibility when the alarm is raised.
Provide an induction briefing for new people coming into their area of responsibility to ensure that those people know:
How to raise the alarm and what action they should take
Where the fire exits and key fire safety features are located in their workplace.
---
WHAT DO OUR STUDENTS SAY?
'Extremely good, great presentation.'
May 2017
'Learnt a lot and Mo was very helpful and has good vocal skills.'
April 2017
---
To enhance your fire qualifications, check out our full course menu and our E-Learning modules to upskill and boost your knowledge.
Please view our Terms and Conditions before booking.